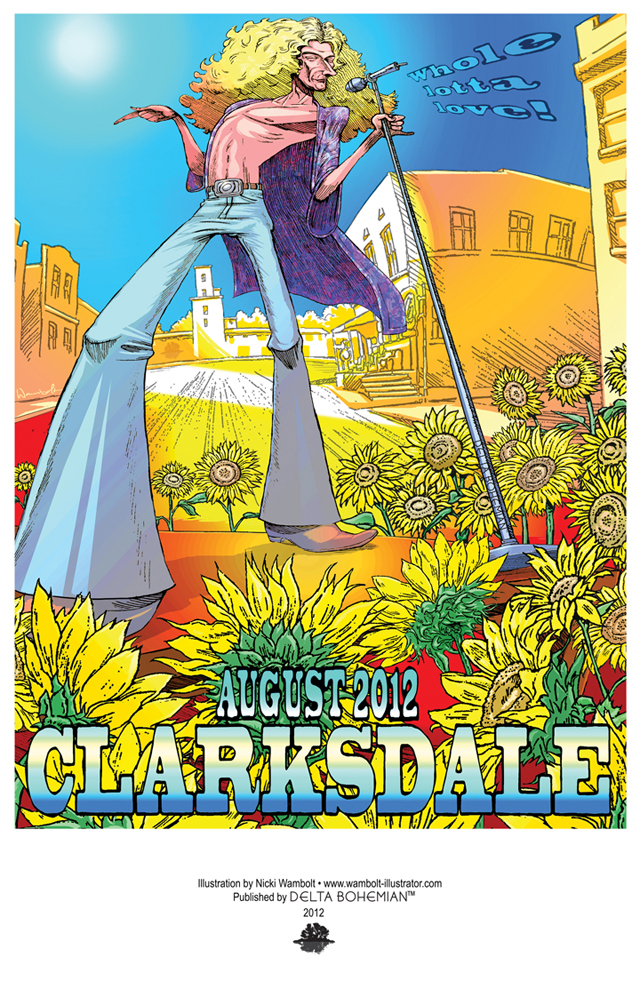 CLARKDSALE, MS – The fabulously talented cartoonist/illustrator Nicki Wambolt has created yet another fantastic piece of art depicting this wonderful place called Clarksdale. In the poster (image also available on a t-shirt) you see a Sunflower Plant or two or thousands enjoying a Music Festival in Clarksdale, the Heart of the Mississippi Delta.
The POSTER is printed in the style of the old Bill Graham Presents at the Filmore in San Francisco. The size is 14″ x 22″ and is printed on a 12pt gloss coated stock.
VISIT HERE TO ORDER YOUR POSTER

LOOK HARD and you will see our DELTA BOHEMIAN™ tree logo hidden on the illustration. CAN YOU FIND IT??? Our words DELTA BOHEMIAN™ are on illustration too but in a different location. 😎
Thanks, Nicki, for contributing to the DELTA BOHEMIAN™. Check out more of Nicki's fine work on his website at http://www.wambolt-illustrator.com/ Nicki would love to draw something special for you or your company. Even though he lives in Europe, he works for folks all over the world. We met Nicki in Clarksdale when he made a pilgrimage here on his own. He's a genuinely nice guy and gifted artist. We are waiting for him to return to Clarksdale. NICKI????!!!!! When are you booking that plane ticket?!
Check out this page where you can see several of Nicki's cartoons. We LOVE his New Orleans OFFBEAT MAGAZINE cover and his caricature of Tom Waits, another musician who loves to come to Clarksdale. Do it, Nicki.
You will also enjoy reading about and seeing the poster Nicki did of Red's Blues Club HERE: