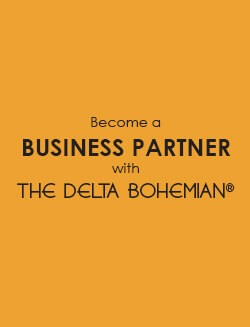 DELTA BOHEMIAN® PARTNER or a FRIENDS OF THE DELTA BOHEMIAN® you get more exposure to these visitors and you help us out, too.
Two Choices
BUSINESS PARTNER Ad Rates
$840/year
or
$70/month
BUSINESS PARTNER ads appear on the right sidebar of 
every page of the website
.
FRIENDS OF Ad Rates
$300/year
or
$25/month
FRIENDS OF ads appear at the bottom of 
every post(article) of the website
.

Signing up is easy. Just contact Billy or Madge directly at [email protected] or [email protected].
PAYMENT: We accept credit cards or checks.
BUSINESS PARTNER size: 250 wide by 327 tall pixels
FRIENDS OF size: 175 wide x 200 tall pixels
Example Business Partners Ad
You can see examples of our BUSINESS PARTNER ads directly to the right. They are on every page of the website, including the homepage.
Example Friends Of Ad
You can see examples of our FRIENDS OF ads at the bottom of every article on The Delta Bohemian®.
FOR MORE INFORMATION: Call Billy 662-645-9197 or Madge 662-392-9249.
Disclaimer: All information provided at Delta Bohemian® is for informational purposes only. The Delta Bohemian® is a ezine blog. If you buy a PARTNER Ad or a FRIENDS OF Ad, we get money or in-kind compensation for said advertising.
By the way, The Delta Bohemian® reserves the right at our sole discretion to refuse any advertiser and/or their graphic ad we deem inappropriate for our readers. The Delta Bohemian® reserves the right to change our advertising rates and terms from time to time.
If you buy something on our Shop.DeltaBohemian.com website, we receive the income from that, too. If we are representing an artist, they get a portion of that income, too.
The Federal Trade Commission demands that we tell you this—they think you're idiots and are violating the First Amendment with their regulation of what bloggers publish—but it's also a friendly reminder to Support The DELTA BOHEMIAN® by purchasing an Ad by emailing us at [email protected] and/or visit our subdomain shop.deltabohemian.com so you can get yourself a t-shirt or hat or whatever.
Now that we've complied with federal regulations, how about you become a Business Partner or a Friend of the DB? We will be proud to welcome you!