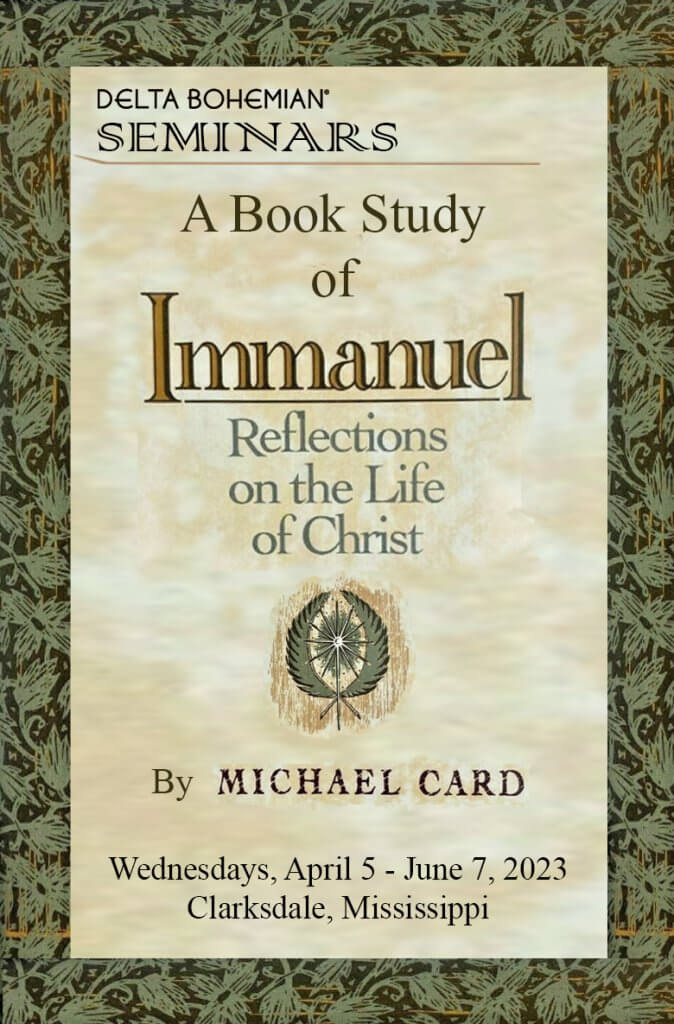 Delta Bohemian Seminars:
Book Study of
Immanuel: Reflections on the Life of Christ
By Michael Card
The Delta Bohemian® is pleased to announce our second (2nd) book study in the Delta Bohemian Book Study series. Our first seminar focused on "The Secret History" by Pulitzer Prize winner and Mississippi author, Donna Tartt.
Immanuel: Reflections on the Life of Christ. A book written by singer/songwriter and theologian Michael Card centers around the centrality of Christ and three significant epochs in His life:
1. The Incarnation. 2. The Ministry. 3. The Passion.
46 brief chapters (2-5 pages long) which include the lyrics to 46 songs chronicling the Life of Christ, along with a one-to-two-page blurb by Card about the genesis of and thoughts about the song. Then, we will listen to the song and have a brief reader/response Socratic discussion about the song.
WHY:
This book study is intended to be: reflective, spiritual, contemplative, respectful, collaborative, and hopefully—enlightening.
The focus will be on the centrality of Christ and His life.
We will investigate paradoxes and duality in the life of Jesus Christ, while assiduously hoping to avoid any polarizing, dogmatic, doctrinal views, including myriad assertions about the sundry of views on eschatology (end times).
WHEN, WHERE, WHO:
This 2nd book study will be held every Wednesday (beginning April 5th) from 5:15-7:00, for a total of 10 weeks, in a private home in Clarksdale.
Seminar facilitator will be Chilly Billy Howell, a trained facilitator, fellow of the National Writing Project, and the Delta Bohemian Tours guide.
Contact facilitator for more on home location. Soft drinks and water will be provided. Snack options and/or rotation will be discussed at the first meeting. Snacks will be provided for inaugural get-together.
Seminar Attendees will hopefully:
Have read the brief few songs and chapters for that week's seminar.
Have read and thought through the big questions and content in the syllabus that will be provided in advance of the seminar.
Come in Peace.
FORMAT: 1. Lyrics will be read. 2. Card's blurb about the song will be read. 3. Song will be played. We will follow this format for all the evenings songs, then after all have been read and listened to… 4. We will have a Socratic discussion about the main themes from a reader/response perspective: ex. How did the songs and/or a particular song make you feel, view Christ and His life differently, what lyrics really spoke to you and your spirit, etc. We will end PROMPTLY at 7:00pm!
Seminar limited to 10 participants:
This limitation is conducive for
intimate, non-lengthy discussions and discourse.
Immanuel is OUT OF PRINT, so facilitator
scoured the internet for very good copies, locating ten.
Seven are left for purchase for the seven remaining slots.

COST OF BOOK STUDY:
$15 – purchase covers book, cost of any materials,
and weekly soft drinks.
---
Please direct any questions to Seminar Facilitator.
---
ABOUT THE AUTHOR:
Michael Card
is described by Moody Monthly as an artist
"who stands alone in biblical accuracy and integrity of lyrics."
—In a career that took off with his debut album, First Light (1981), Michael Card has recorded over 38 albums, authored over 28 books, is host to a weekly podcast, and has written for a wide range of magazines. He has penned such favorites as "El Shaddai", "Love Crucified Arose", and "Immanuel,". The popularity of his work seemed a stark contrast to his goal in life, to simply and quietly teach the Bible.
Although music provided him the opportunity to share insight gained through extensive research, writing songs alone limited what he felt called to share. Card would frequently agonize over having to condense the vast depth and richness of scripture into a three-minute song. He then began to write articles and books on topics that captured his imagination through conversations with Bible teachers, friends and contemporaries in both Christian music and the academic community, and continues to write to this day.
Michael lives in Franklin, Tennessee, where, with a group of close friends, he pursues racial reconciliation and neighborhood renewal, and is currently writing on the details of the life of Jesus. He and his wife, Susan, have four children and four grandchildren. Michael travels frequently each year, teaching and sharing his music at Biblical Imagination Conferences, and also facilitates annual Life of Christ tours to Israel.
Chilly Billy Howell
Deltabohemiantours.com
Deltabohemian.com
662-313-9918
Please comment and share and subscribe.
Find us on RUMBLE.