Brief introductions to assorted trending things in Mississippi you need to know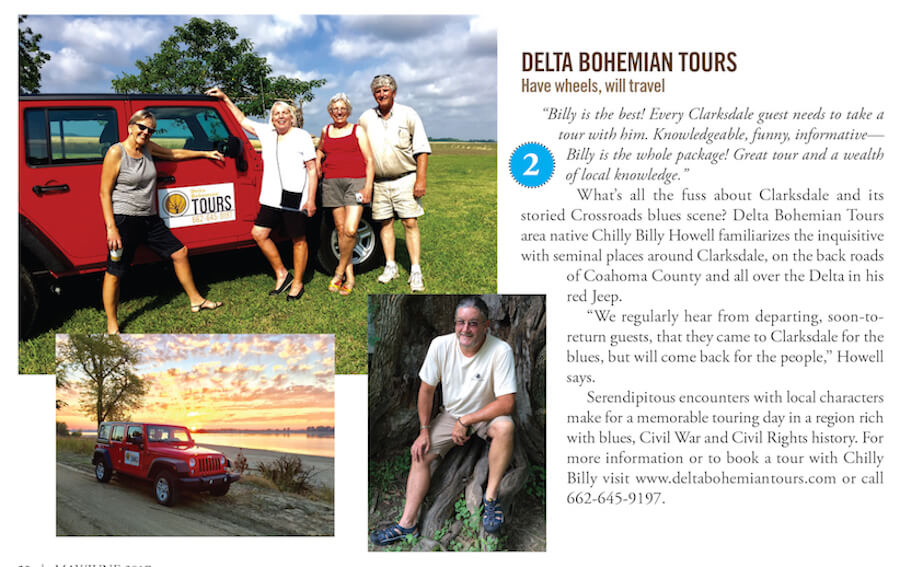 Delta Magazine HOT TOPICS is a fun, two-page section spotlighting four subjects trending in Mississippi, especially the Delta. When Delta Magazine arrives in my mailbox, HOT TOPICS is my immediate go-to! I'm curious to see what the latest crazes are in our great state.
Not long ago, HOT TOPICS featured Chilly Billy's Delta Bohemian Tours, Have wheels, will travel! More and more visitors (and even locals) are hopping in Howell's red Jeep to experience one of his private, relational regional identity tours to further enhance their time here. What a thrill and blessing to be considered a hot topic in Delta Magazine! We appreciate the love and support from our neighbors and fellow Mississippians.
Others recently featured include writer Norbert Putnam, Mighty Miss Brewing Company, Grover's Corner in Cleveland, Mississippi Wildlife Heritage Museum in Leland, Chancellor's House in Oxford, Eventful in Jackson and many more. Hot Topics even updates us on significant deaths in our state like the recent passing of the much beloved Robert "Bilbo" Walker, whom we have featured often on The Delta Bohemian®. May he rest in God's eternal peace.
Every Delta Magazine issue contains four new HOT TOPICS not to mention the OFF THE BEATEN PATH, roaming the real and rustic Delta. This section has a similar format but emphasizes places you may not know about….yet.
Subscribe to Delta Magazine here so you don't miss a beat.
—Magical Madge
ARTICLES ABOUT BILBO WALKER published on The DB
Classic Bilbo Walker at Red's Blues Club
Bilbo Walker and Roger Stolle Off to Brazil
Nicholas Wambolt: Our Wannabe Mississippi Delta Semi-Fixture Artist