The abundance of wildlife on this singular tour was astounding!
WATCH VIDEO

Every DB Tour is unique and rife with Delta wildlife. We are blessed not only to live around the most felicitous folks in the world, but also we enjoy some of the most extraordinary domesticated and undomesticated wildlife to be found—yes, even our domestics retain some wonder and wildness due to a lack of urban restrictions.
A typical three-hour Delta Bohemian regional identity tour includes a thorough history of downtown Clarksdale with the last hour or so spent "out in the country"—our version of the Aussie outback—which is usually touristas favorite part of our Delta excursion. On days I don't give a scheduled tour I usually tour myself all over the Delta!
Yesterday, Magical Madge and our good friend Felicia, who moved here about a year ago and is going to go on walkabout for a while, took a birthday/see-ya-soon tour for four hours totally in the country! I just went where I went, and we saw more varied Delta wildlife in one cold, winter afternoon than I believe I have ever seen in one day: snow geese, Canadian geese, dog with a stick, cows, horses, mules, two donkeys in different places, wild turkeys, an armadillo, a bald eagle, several deer, a wren and other stuff I have forgotten about. Plus, most scenes are rarely sans our Delta crucifixes—ubiquitous telephone poles crisscrossing one of the most quiescent, yet dynamic locales any damn where!
Every day in the Mississippi Delta is as organic as the alluvial topsoil deposited here for eons by the Mississippi River, a major, life-imbuing artery nurturing Mid-America and draining over 40 percent of the United States. People from all over the world come to the MS Delta daily to hear blues in the place that sired it and to experience and relate to locals with the hope of better understanding what created the art form they find fascinating. But, this is just the start…
A significant percentage of Delta touristas come back again and again for our generous spirit, our exhaustive mirth, our live blues of course, and for our righteous riparian wildlife and bucolic outback transcendence. Every day is a great day to take a Delta Bohemian Tour and just be in the Mississippi Delta!
"Taste and see that the Lord is good!" — Psalm 34:8
Cheers! Chilly 🙂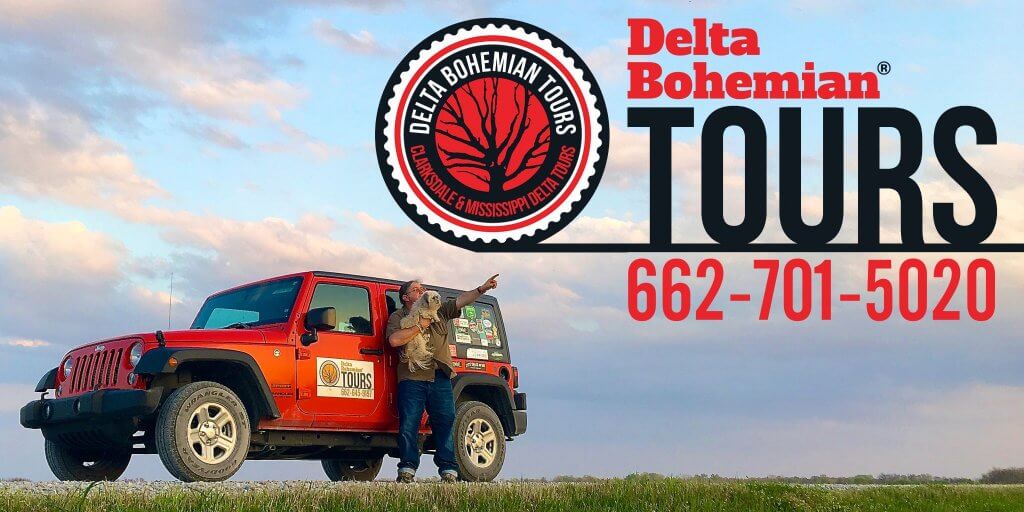 SEEK THE DELTA ▼ NEXT DOOR
We encourage comments and sharing!