What's going on in town this week?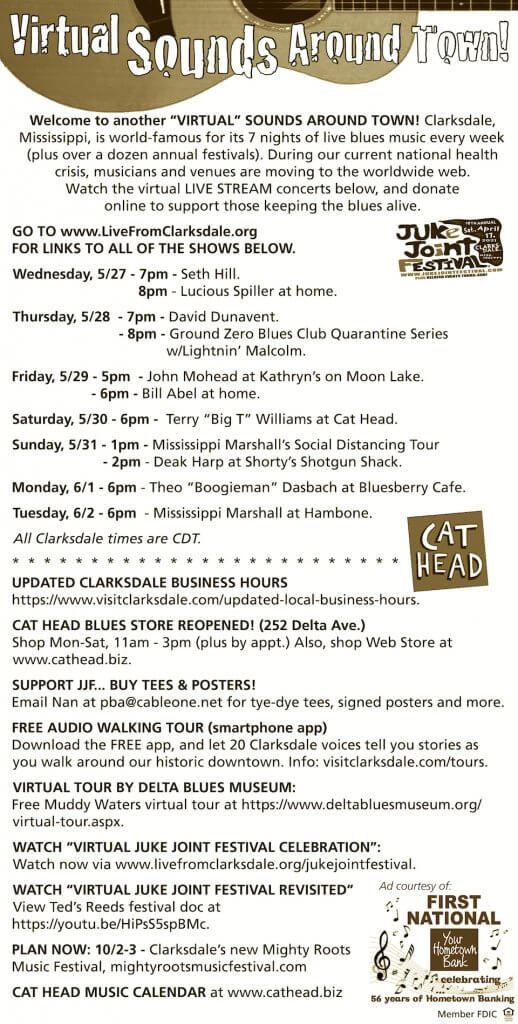 Hey y'all… Welcome to another "VIRTUAL" SOUNDS AROUND TOWN! Clarksdale, Mississippi, is world-famous for its 7 nights of live blues music every week (plus over a dozen annual festivals). During our current national health crisis, musicians and venues are moving to the worldwide web. Watch the virtual LIVE STREAM concerts below, and donate online to support those keeping the blues alive.
GO TO www.LiveFromClarksdale.org FOR LINKS TO ALL OF THE SHOWS BELOW.
Wednesday, 5/27.
7pm – Seth Hill.
8pm – Lucious Spiller at home.
Thursday, 5/28.
7pm – David Dunavent.
8pm – Ground Zero Blues Club Quarantine Series w/Lightnin' Malcolm.
Friday, 5/29.
– 5pm – John Mohead at Kathryn's on Moon Lake.
– 6pm – Bill Abel at home.
Saturday, 5/30 – 6pm – Terry "Big T" Williams at Cat Head.
Sunday, 5/31.
– 1pm – Mississippi Marshall's Social Distancing Tour.
– 2pm – Deak Harp at Shorty's Shotgun Shack.
Monday, 6/1 – 6pm – Theo "Boogieman" Dashbach at Bluesberry Cafe.
Tuesday 6/2 – 6pm – Stan Street & Jacqueline "Jaxx" Nassar at Hambone.
All Clarksdale times are CDT.
Thanks y'all! Best, Roger
Roger Stolle
Cat Head Delta Blues & Folk Art

Celebrating 18 years as Mississippi's Blues Store!

252 Delta Ave., Clarksdale, MS 38614

Fodor's Travel (2018): "Clarksdale… Best American music city that's not Nashville."
⬇︎ Want to know what to expect when you come here? ⬇︎
WATCH VIDEO

LOCAL INFORMATION HERE
https://deltabohemiantours.com/clarksdale-things-to-do/
Link includes Clarksdale Live Music Venues Guide
Top 10 Juke Joint Rules
Top 10 Things To Do in Clarksdale
and more.
EXPERIENCE THE DELTA
Whether this is your first visit to the Mississippi Delta, you have been coming for years, or you live here, a personal regional identity tour with Chilly Billy Howell will give you a totally unique, educational and entertaining experience. See, learn and hear things you never would garner on your own in three hours. Get a born and raised in the Mississippi Delta view from Chilly Billy on a Delta Bohemian Tour. Fill out the online form to book a tour!
---
Sounds Around Town ad courtesy of First National Bank in Clarksdale. Design from Nan Pharr of Pharr Bros Advertising in Clarksdale. Thank you, Roger Stolle, for producing this Sounds Around Town for our locals and visitors.
WE HIGHLY ENCOURAGE COMMENTS AND SHARING