What's going on in town this week?
VIDEOS IN POST
This Sounds Around Town is Clarksdale lists live music and entertainment always starting on the Wednesday of every week.
CLARKSDALE MISSISSIPPI'S contributions to "Bridging the Blues" time period start this week! Don't miss the new Red's Old-Timers Blues Festival (FREE!) on Saturday… and then come back for Deak's Harmonica Block Party the next weekend… and Clarksdale Super Blues Sunday the next weekend… and Deep Blues Festival (plus TN Williams Fest, Cruzn The Crossroads and Harvest Fest) the next weekend!
More info on my Music Calendar web page at
https://www.cathead.biz/music-calendar
.
Sat., 9/22 – RED'S OLD-TIMERS BLUES FEST (free!)
MLK Park Stage near Red's Lounge:
11AM – Henry "Gip" Gipson
NOON – Cadillac John Nolden
1PM – Frank "Guitar" Rimmer
2PM – Little Joe Ayers
3PM – R.L. Boyce
4PM – Stone Gas Band
5PM – "Gearshifter" Youngblood
6PM – Big George Brock
7PM – Super Chikan
Times approximate; line-up subject to change.
Oh, and don't forget we still have all of our normal 7-nights-a-week of blues shows, so get out there and have fun, y'all!
#soundsaroundtown #redsoldtimersbluesfest #redslounge #visitclarksdale #catheaddeltabluesandfolkart
Thanks and best, Roger
Clarksdale, Mississippi's SOUNDS AROUND TOWN features 7-nights-a-week of blues and more, y'all!
PLUS, PLAN NOW for special Clarksdale events like these:
9/20 – Cutrer Concert (www.cutrermansion.com) on Grand Lawn w/Blackwater Trio, 6pm — Picnic Baskets available from Yazoo Pass (www.yazoopass.com)!
9/22 – Red's Old-Timers Blues Fest on MLK Park Stage, 11am-8pm, https://www.gofundme.com/red039s-oldtimers-blues-festival
9/24-30 – Paint The Town: Amazon to Clarksdale Street-Art Event (w/blues on 9/29), https://www.facebook.com/events/2159055384135661/
9/27 – Clarksdale White House Home Concert w/John Mohead, 6:30pm, www.deltabohemian.com Purchase tickets HERE.
9/29 – Deak's Harmonica Block Party, noon-8pm, www.deakharp.com
And even more in October… https://www.cathead.biz/music-calendar
– 10/7 – SUPER BLUES SUNDAY: Cat Head Mini Blues Fest (9am), Bluesberry Cafe Blues Breakfast (10am), 2nd Street Blues Party, Hopson/Shackup's Pinetop Perkins Celebration (3pm), Levon's Sunday Ramble (3:30pm), Red's Juke Joint Jam (8pm) and more!
– 10/11-14 – Deep Blues Fest & Busking Stages
– 10/11-13 – MS Delta Tennessee Williams Festival
– 10/13 – Cruzn The Crossroads Car & Truck Show
– Halloween weekend 2018 – Hambone Festival & related events
– New Year's weekend 2018 – Spend NYE at the Crossroads!
– UPCOMING:
Thursday, November 29, 2018 – Caleb Elliott, guitarist and cellist. Home Concert at Clarksdale White House (Subscribe to The Delta Bohemian to be the first to know when tickets go on sale!)
Thursday, March 28, 2019 – Jazz musician and composer Anthony Wilson Home Concert at Clarksdale White House. (Subscribe to The Delta Bohemian to be the first to know when tickets go on sale!)
SOUNDS AROUND TOWN is part of Clarksdale, Mississippi's efforts to revitalize our historic downtown and promote our region's blues music to the world. In the past decade and a half, we've gone from (maybe) 2 nights a week to 7 nights a week of live blues, each and every week. We've also added around a dozen new, annual festivals!
RED'S OLD-TIMERS BLUES FESTIVAL coming to Clarksdale, Mississippi, Sept. 22nd! An old-timer himself, Red Paden of Red's Lounge fame, is organizing a brand-new, real-deal blues fest (along with assistants Orlando Paden and Mac Crank, among others). And… HE NEEDS YOUR SUPPORT!
Go here: https://www.gofundme.com/red039s-oldtimers-blues-festival
Please give early and often to Red's GoFundMe campaign. and SHARE, SHARE, SHARE! Thanks, y'all.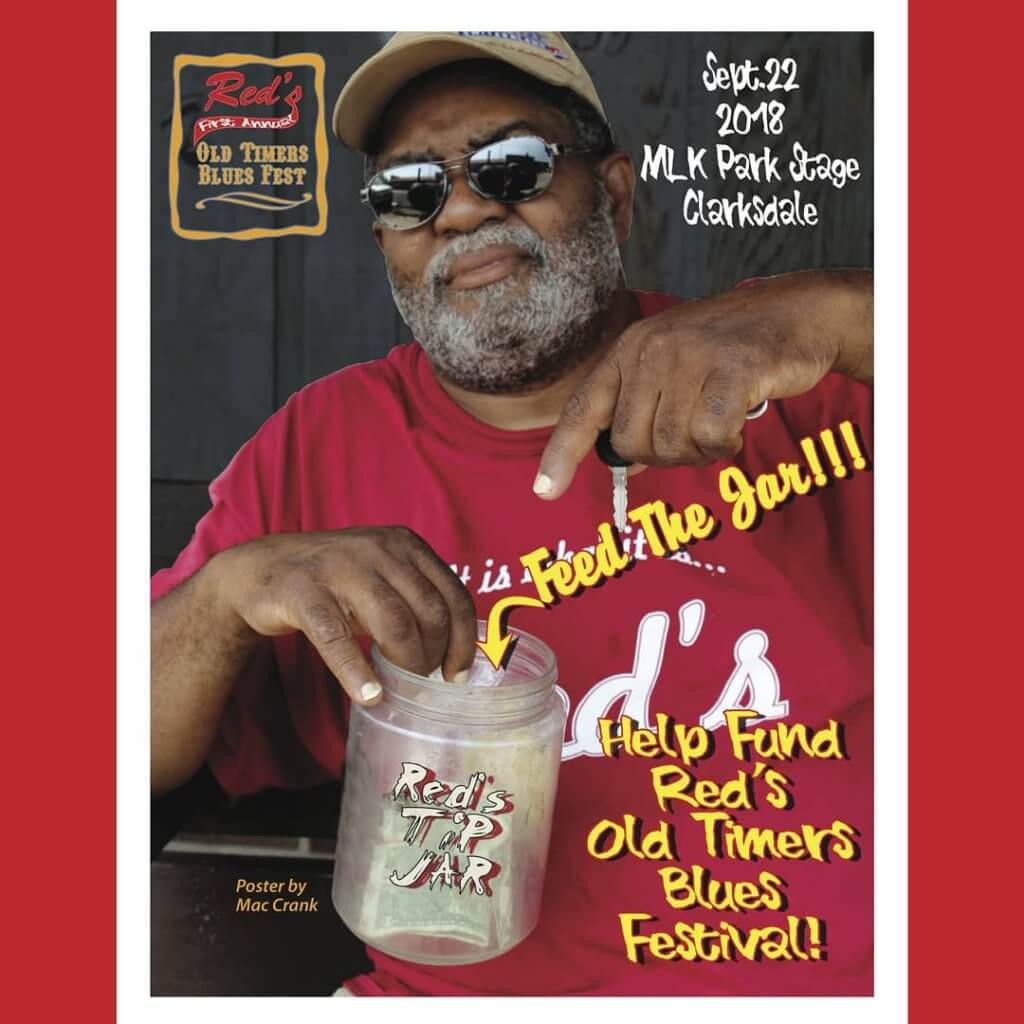 Please continue to spread the word, and support live music whenever you can. It really does make a difference. Thanks for your support!
Roger Stolle
Cat Head Delta Blues & Folk Art

PLUS, when you visit Bluestown, USA, be sure to visit our museums:
– Delta Blues Museum, open Mon-Sat, 9am-5pm; closed Sun.
– Rock & Blues Museum, open Thurs-Tues, 10am-5pm; closed Wed.
MONDAYS always Hopson Commissary and Bluesberry Cafe.
TUESDAYS always Hambone Gallery.
WEDNESDAYS always GZBC and Red's Lounge.
THURSDAYS always GZBC and sometimes Red's Lounge
FRIDAYS and SATURDAYS multiple venues.
SUNDAYS always Bluesberry in the morning, Levon's in the afternoon and Red's Lounge at night.
Plus more pop up from week to week!
⬇︎ Want to know what to expect when you come here? ⬇︎
WATCH VIDEO

LOCAL INFORMATION HERE:
http://www.deltabohemiantours.com/local-info.html
Link includes Clarksdale Live Music Venues Guide
Top 10 Juke Joint Rules
Top 10 Things To Do in Clarksdale
and more.
EXPERIENCE THE DELTA
Whether this is your first visit to the Mississippi Delta, you have been coming for years, or you live here, a personal regional identity tour with Chilly Billy Howell will give you a totally unique, educational and entertaining experience. See, learn and hear things you never would garner on your own in three hours. Get a born and raised in the Mississippi Delta view from Chilly Billy on a Delta Bohemian Tour. Fill out the online form to book a tour!
---
Need a place to stay while you are in Clarksdale?
⬇︎ Want to know what the DBGH is like? Watch this ⬇︎

Sounds Around Town ad courtesy of First National Bank in Clarksdale. Design from Nan Pharr of Pharr Bros Advertising in Clarksdale. Thank you, Roger Stolle, for producing this Sounds Around Town for our locals and visitors. WE HIGHLY ENCOURAGE COMMENTS AND SHARING