(Clarksdale, Mississippi)
PHOTOS and VIDEO
Cassidy Bayou Gallery Opening in Sumner, MS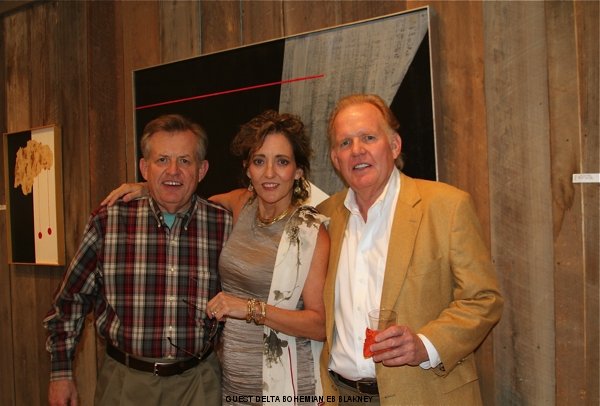 Two Unedited Videos
Cassidy Bayou Gallery Grand Opening Party in Sumner, MS
[youtube]http://youtu.be/MddL53UsvDo[/youtube]
[youtube]http://youtu.be/-MzT2rap_-o[/youtube]
It is becoming increasingly more difficult to decide where to go and what to do in and around Clarksdale, Coahoma County and the Mississippi Delta….and beyond….and that is a very good thing! If we could we would Do It All! However, recovery time after a day or two or three out frolicking can take days sometimes. Oh well. It is what it is.  We relish each event, party, or occasion we can attend and appreciate invites that come our way.
We hope you enjoy seeing a few reflections from the past week in the photo gallery. They include the following:
Hopson Commissary was the spot for a couple (Anne Marie and Bradley Gordon – she owns CICADA  and CICADA FOR MEN in Oxford and he owns GORDON GALLERY in Clarksdale) wanting to share the joy of their recent nuptials with family and friends. NOLA horn and percussion band called the Pinstripe Brass Band delighted the crowd.
Next door Jon Gindick was coaching his students at his Harmonica Jam Camp in the Juke Joint Chapel at the Shack Up Inn.
The Cassidy Bayou Gallery Grand Opening offered a magical night in the tiny, Tallahatchie county-seat town of Sumner that will long be remembered in the hearts of locals and visitors. The Gallery and the event itself provided a fine example of how to take a weary yet beautiful Delta town and, through a bit of vision, no small change and passion, offer a glimmer of hope to a future of progress, evolution and change. Thank you, Buford and Desaix Anderson–two men willing to produce using their energy, passion and means for the betterment of a local community. The new Cassidy Bayou Gallery and Art & Culture Center is tasteful and a diamond in the Mississippi Delta. We encourage visitors and locals to visit this unique spot in the Mississippi Delta called Sumner, also home of the renown Emmitt Till Trial.
Lastly, a baptism of a baby brought it all back home. Hope. Grace. Peace.
NOW………..Get to reading ALL the MANY options available to any of you who plan to be around this next week. For those of you living elsewhere, stay tuned as we will cover our shenanigans and give you a taste of what you are missing. We wish you were here but since you can't be, enjoy looking and reading about this special place we call home…the Mississippi Delta.
– – – – – – – – – – – – – – – – –
19th Mississippi Delta Tennessee Williams Festival
Friday and Saturday, October 14 and 15
Clarksdale, MS

CLICK HERE to read more about it.

– – – – – – – – – – – – – – – – –
Photos from Hopson Commissary (Bradley & Anne Marie's celebration), Jon Gindick's Harmonica Camp, a Baptism and other miscellaneous photos around town…including a Birthday at Madidi.
[smooth=id: 27; width:600; height:600; timed:false; arrows:true; carousel:true; links:true; info:true; align:center; frames:false; open:true; text:Pictures;]
Click on Photo to view full image.
– – – – – – – – – – – – – – – – –
Thursday, October 27
Premier of Clarksdale's Coop Cooper's short film
THE BEST DAY
Delta Cinema in Clarksdale
Starring Clarksdale natives Anna Carson Tyner and Lois McMurchy Erwin!
Also starring veteran MS actors Amye Gousset (Tupelo) and David Dallas (Cleveland).
Co-starring Steve Hays and Allen Brown of Clarksdale.
Event will feature…
– Trailers for yet-to-be-released short films by other Mississippi filmmakers
– Screening of THE BEST DAY
– Screening of THE BEST DAY blooper reel
– Q&A session
– Presentation of gifts to the cast and crew
After party at Ground Zero @ 7pm (food included/cash bar)
SPECIAL NOTE: This is the first festival-qualifying narrative short film made by Clarksdale natives!
Approx. rating: PG-13
– – – – – – – – – – – – – – – –
FRESH OFF THE PRESS FROM ROGER STOLLE of CAT HEAD
and NAN HUGHES OF PHARR BROTHERS ADVERTISING.