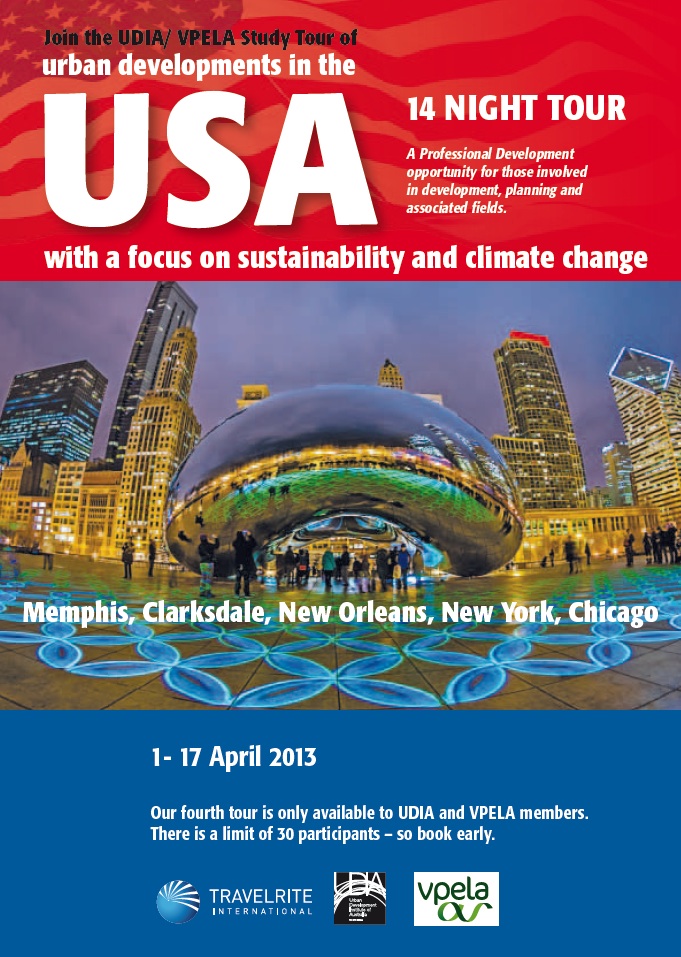 (Clarkdsdale, Mississippi) Going head to head with cities like New York, Chicago, New Orleans and Memphis don't scare us none. We got it covered here in CLARKSDELTA, the Golden Buckle of the Mississippi Delta. But who the hell is UDIA/VPELA and why are they coming to America? 
According to our very own John Henshall, principal of Essential Economics in Melbourne Australia, and Clarksdale does claim John as ours, he shared….
It's called the "UDIA/VPELA Study Tour 2013"
'UDIA' is Urban Development Institute of Australia
'VPELA' is Victorian Planning and Environmental Law Association
The tour organiser is Jim Webber (a retired transport planner), while the 'official' spokesman for the group is Tony De Domenico, Executive Director of UDIA (Victoria). There is going to be a party for the group when they arrive. Plan to attend; I'm sure they will have some interesting new insights into Clarksdale!
A group of 20 urban planners and property developers and their partners will be visiting Clarksdale on 4th and 5th of April as part of a USA study tour. The tour also takes in Memphis, New Orleans, New York City and Chicago, and so Clarksdale is up there with some of America's great cities.
The tour members are visiting a wide range of projects in such fields as housing, commercial development, downtown revitalization, and community development. In past years, the study tour has taken in Europe, Asia and the Middle East.
In Clarksdale's case, the tour will be briefed on downtown revitalization, community development, farming initiatives and, of course, the place of Blues music in the lifeblood and culture of Clarksdale and the Delta. They will be meeting with city representatives, Downtown Revitalisation Inc, Delta Bridge Project and others. To get the full flavour of the Delta, the group will be taking a canoe trip on the Mississippi with John 'River Rat' Ruskey of Quapaw Canoe Company. The 'forces' will ensure they also visit Red's and Ground Zero Blues Club.
The Clarksdale visit will provide such a contrast with the visits to the other (mega) cities…
-John Henshall 
Principal of Essential Economics Pty Ltd
Economist and Town and Regional Planner
Thirty+ years consulting experience in urban and regional economics,
land use planning, housing and community consultation.
He has significant experience in the area of economic development.
Their Clarksdale Itinerary
Thursday, April 4
6pm        Reception at the Delta Blues Museum
Friday, April 5
9 am – 10ish          Old Bus Depot on Third and Issaquena
                                 Update from Clarksdale Revitalization
                                 Update from Tourism Commission
                                 Update from Delta Bridge Project
                                 Roger Stolle and Juke Joint Festival
10ish-11:30             Robert Birdsong Tour
11:30-1:20              Lunch
1:30-3:30 pm          Chamber of Commerce – Ron Hudson
                             Levee System – Bill Sheppard, Levee Board
                             Peanut Warehouse
                             Cotton Gin 
3:45                        Free time           
                                   Visit downtown Clarksdale stores
Here is their full itinerary.                                                      
We appreciate your comments and sharing.