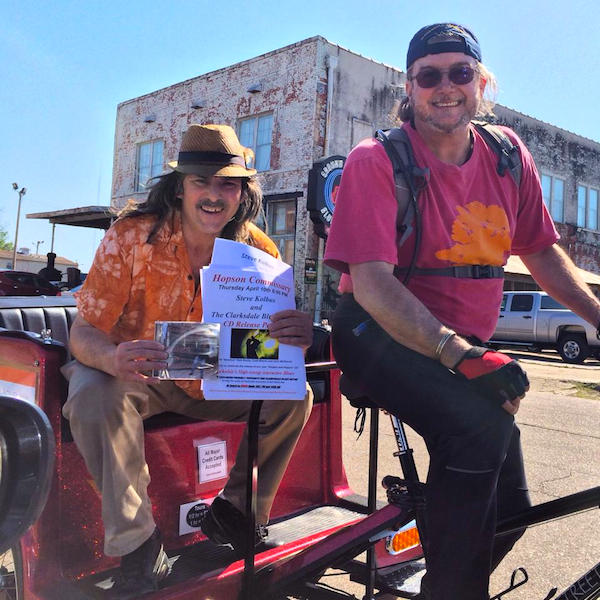 Musician Steve Kolbus riding on DB Pedicab with Billy Howell
By BILLY "POOR WILLIAM" HOWELL
CLARKSDALE, Mississippi – VIDEOS IN POST
What do chicken wings, titties and a true story about a woman faking her own death have to do with each other? Steve Kolbus.
Steve Kolbus is an iconic local musician, Clarksdale transplant, nice guy, great promoter, multi-vocational window washer and writer of two of the funniest songs I have heard. One song ("Titties & Chicken Wings") has the singer and harmonica player with a new album declaring rather humbly that he does enjoy going on down to Hooters and chewin' on "mounds of mammaries" with his chicken wings. There is also a little mention about hot sauce, nipples and a self-deprecating acknowledgment that some  "really nice ladies might be disgusted, 'right about now!'" Sorry folks, this song is not on the album; you have to watch it right here or hear it live when in Clarksdale. Y'all come!
[youtube]http://www.youtube.com/watch?v=wVlKiRcHV-w&feature=share&list=UU8kMOworgfvPCphvskKJPFQ[/youtube]
The second hysterical song ("Shelby Women") is a classic, true Delta Tale—true and Delta are both oxymoronic and redundant at the same time—about Steve's ex-gal and daughter of the legendary Robert "Bilbo" Walker faking her own death in order to ditch him! Only the self-effacing Steve is secure enough to write and sing about such a dumping! I love me some Steve Kolbus! Also, I love his folks, who stay with us at the Clark House Residential Inn a couple times a year when they are here visiting Steve.
[youtube]http://youtu.be/ora2rZqvNEc[/youtube]
Steve moved here a few years ago after working in the HVAC and standup comedy field somewhere up North, sorry Yankees—we do love ya—but geographical specificity is not required north of the Coahoma County line!
After relocating to Clarksdale, Kolbus hit the ground running with a restaurant that didn't, but Steve gave it a valiant effort and he paid his musicians well. Name of the restaurant? It was called Tricia's Italian Restaurant and Pie Hole, named after his now ex-wife. I ain' gonna lie, we would sit around for hours and ask rhetorical questions about Tricia's Pie Hole! Some imagination required!
Steve Kolbus and the Clarksdale Blues Revue has a new album out, Skippin' N' Hoppin', which features all original songs written by Steve, and includes the following local musicians: "Barefoot" Walt Busby on guitar, Jaxx Nassar on drums, Cade "Mississippi Mud" Moore on bass and Steve on harmonica and lead vocals with Special Guests Lala Craig (vocals track 4) and Josh McDowell (drums track 11).
How to describe the album? Well, happy blues and a lot of fun, but, his song "Down Down Down" goes hard! I ain' lyin'!! One of Steve's great strengths in person or on stage is his fondness for letting his band members go where they want to go stylistically, and his continual encouragement and praise for those who play with him.
Steve is categorically one of the nicest cats I know and is a Clarksdale treasure and a known character! We have characters and characters make us who we are! I ain' lyin'! Steve can be heard often hosting the weekly jam at Morgan Freeman's Ground Zero Blues Club, playing at Bluesberry Café on Monday nights, and he ain' hard to find on the streets in downtown Clarksdale—he'll find you!
Steve Kolbus and every local musician who play nightly around town are huge contributors to the burgeoning success that is the revitalization of Clarksdale. We thank you as do the myriad of folks from all over the world who plan, scrimp, save and yearn to spend a few days in the Mississippi Delta and Clarksdale, birthplace of the blues. If it wasn't for y'all, we could not boast having live blues 365 days a year!
To get a copy of the cd, go to cdbaby.com and type in Steve Kolbus or the name of the album "Skippin' N' Hoppin'" or visit Deak Harp's Mississippi Saxophones and Blues Emporium on Third St. in downtown Clarksdale, where live blues can usually be heard most afternoons on the sidewalk! Clarksdale don' play. Check us out! pw