By BILLY "Poor William" Howell
(CLARKSDALE, Mississippi) MULTIPLE VIDEOS IN POST
New Delta Bohemian® Excursions Pedicab Service Debuts
in Downtown Clarksdale
CLARKSDALE HOT SPOTS TOUR
Reservations/Pickup
662-645-9197
or
[email protected]
Are you ready? Hell yea, damn right, hotties need a toddy, my legs is mighty-mighty, who in the hell are we? Hey! New Service, pedal-power, rent Poor William, by the half-hour! He'll take ya 'round downtown in the Delta Bohemian Pedicab! I ain' playin'! Dis for reals! A carriage fit for all y'all!
Clarksdale is poised for growth based on its blues heritage, live music nightly, friendly folks, killa sunsets, awesome places to chew on Delta dining, museums, art galleries, and its desire to mirror and even outdo proven, green-based services offered in tourist hotspots around the country, and yes, even the world!
[youtube]http://youtu.be/jTuo3HLwPIo[/youtube]
What is a DB Pedicab? It is a pedal-powered (you ain' got to pedal) carriage extraordinaire replete with a ragtop—canopy for hot, wet, or windy weather. It is safe, insured, comfortable, and you're assured to love it!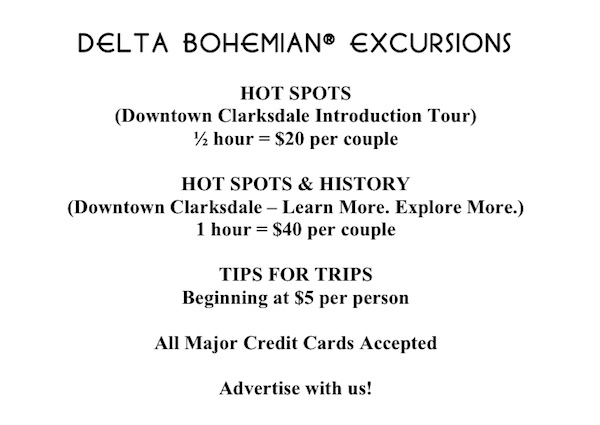 What is a Delta Bohemian Excursion? Hmmm….well, it's as wide open as a Delta Cotton field with a wispy tree line subtly muddling the horizon like hot diesel evaporating off a tractor engine.
[youtube]http://youtu.be/pthqN8_Pfag[/youtube]
DB Excursions pedicab tours in Clarksdale will provide Poor-William-pedal-powered, 30-minute Hot Spots & Mini-History Tours introducing passengers to key downtown locales, including: Live music venues, restaurants and bars, blues-centric museums, art galleries, retail stores, a cool canoe company, historical buildings and markers, ATM machines, package stores, and a bevy of other sites.
An hour-long tour is optional where passengers can hear more detailed history of key spots in Clarksdale, as well as provide opportunities to hop out and visit downtown sites, while I wait outside like a rock-star's chauffeur.
[youtube]http://youtu.be/RBdlL_JCz_E[/youtube]
Custom tours are always available and negotiable. I often ride my personal bicycle to the Shack Up Inn in the late afternoon down Old Hwy 49 from downtown, or via row-crop turn rows where the sun sets proudly and differently every day of the year.
Got cash? I got carriage! Want to really experience the Delta? Holla at ya boy! It's on, it's for reals, and it's got wheels! pw[youtube]http://youtu.be/uS2gxOzQ6B8[/youtube]
FYI: Billy "Poor William" Howell was born and raised in Clarksdale. Keepin' it real, folks!
DELTA BOHEMIAN® EXCURSIONS PEDICAB TOURS IN CLARKSDALE
Hot Spots Tours 1/2 hour = $20 per couple
Hots Spots & History Tours 1 hour = $40 per couple
Tips for Trips = aka Got Cash? Got Carriage!
Text "Poor William"  662-645-9197
Email "poor William" – [email protected]
( not available 24/7  )
Credit Cards accepted.
[youtube]http://youtu.be/CxLPxJaWpbw[/youtube]