"Once they get to know you, they will love you."
By MAGICAL MADGE
CLARKSDALE, Mississippi
Faithfully, every week, Quapaw Canoe Company's John Ruskey shoots me an email about recent past, present and future adventures on or about the river. These commentaries are in-depth and share a distinct insight into a riverman's life. Yesterday, I opened one such email. The headliner was an intriguing Mark River Blog titled "Healing with the Eagles."
Having just returned from a two week trip on the Mississippi River, St. Louis born and former NFL football player, Mighty Quapaw and lover of life, Mark "River" Peoples, saw some eagles. Billy and I saw an eagle in April so I was eager to read about Mark's eagle encounters.
He hooked me on the second paragraph when he began talking about discussing diversity with his mother. Somehow the eagles brought back vivid childhood memories for Mark and with those remembrances came restoration.
Please be my guest and read Mark's beautiful essay about daily challenges, healing of old wounds, and hope about the future all while canoeing the river. Like the eagles, Mark River is back.
P.S. Your Mama was right, Mark. We love you.
Mark River Blog:
"Healing with the Eagles"
 In 1975, when I was 7 years old, my family bought a house in North County, St. Louis on the Missouri side of the Mississippi River. My grandfather, already living in St. Louis, gave my parents the idea we would have more opportunities, and it pulled us from lower middle class to upper.  St. Louis being a very conservative town, resisted minorities moving to their pristine neighborhoods of north county, and showed resistance in ways of intimidation and systematic tactics.  My brother Earl used my grandfather's address to attend Riverview Gardens High School which was a powerhouse in sports in the 70's through the 90's. This made the decision a no brainer.
  I remember discussing diversity with my mother, Iveara Peoples, during her very short time in this world. My mother was born in Bolivar, TN.  She was an All-State track star who fell in love with a up and coming baseball player.  She was very diverse woman, who survived the assassination of Martin Luther King to still love her state and her beloved, Elvis.  Along with Rod Stewart and the Beatles. She always told me, "Once they get to know you, they will love you." Still lives with me today.
Mark River Photo Gallery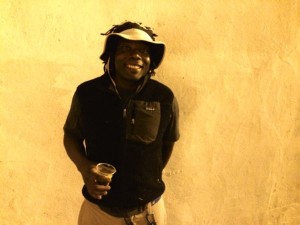 Photographs of Mark "River" Peoples plus an eagle photographed by Poor William and Magical Madge.
  My childhood started as being the only minority in my third grade class, having to wrestle and fight with my fellow students for being smarter, faster, and different. Eventually gaining acceptance for my athletic ability, rather than character and handling societies indifferences by complying with the masses for security and opportunity purposes. During those times, the powers that be were The Pipefitters, one of the most powerful unions who owned the majority of the floodplain of the confluence of the Missouri and Mississippi Rivers to Cementland. Owning coveted property along the Chain of Rocks bluffs with tax benefits feeding a beaming athletic program ironically named after a natural national icon, the Mississippi River.  As students we dealt with the pressures of separatism by driving to the levee and listening to music to hide our friendships to keep the peace.  We would go on float trips to the rivers of central Missouri, the Ozarks, and the Meramac, sometimes hearing racial dialect yelled from the bluffs, but ignoring them as if numb to the situation. Back then it was forbidden to venture southward past the St. Louis Port for there was a chance you would not come back. I went on to excel at Riverview Gardens High School losing my mother at 11 years of age, but surviving the grief to go on to college and the rest is history.
  As we drove from Clarksdale, Mississippi, en route to St. Louis all these old thoughts and experiences flow and wander through my head and heart as I wish for forgiveness and closure. This beautiful iconic river that I love and honor, brought back a combination of love and discomfort, as we drive along the floodplain towards the confluence where I develop my skills practicing football on its rich soil and becoming the athlete I am today. When I was young, 7 months out off the year, this land was flooded, swampy, mosquito infested floodplain that produced trophy mammals during deer season as well as prized waterfowl and fish. Now incorporated as a State Conservation Area to share the love of our river with the masses.  There use to be a golf course along this stretch also, only to be swallowed up by the 1993 flood and never replaced.The making of this park was highly protested after the 1993 flood by locals not wanting to give up their sacred hunting and fishing spots to humanity.  Thankfully a proposed mega-casino project was recently killed by locals.
  We arrive at the boat ramp with high spirits meeting friends and well wishers. There  are fishermen, kayakers, and nature lovers enjoying the day. I immediately notice the diversity in the people and it made me smile inside. We launch the Grasshopper and head towards the Confluence. The Grasshopper glides effortlessly through the water causing fishermen to stare as we head towards Duck Island. On the top end sits an eagle's nest with a whole family intact. It made me reflect back to my childhood when we never saw eagles due to their deaths caused by DDT in the 1970's. It was welcoming site to start the day. We experienced a small rain shower as we headed towards the Chain of Rocks, but the Mississippi River is up so riding " the chain" won't be an issue today.  We choose Mosenthein Island for our first camp looking at the neighborhood where my grandfather bought a house in the 1920's. I spent my evening staring across the channel thanking the Creator for this perspective, a perspective I used to wish for when I was young and had no resources to get to the island.  We used to think that we would catch more fish if we could cross the channel like the rich kids, but who knows. It must be good fishing as a eagles nest sits high in the trees.
  The morning comes quick, as we weathered a storm throughout the night, and I'm excited knowing we will past by Jefferson Barracks Cemetery where my mother is buried. We take the back channel and witness a lone coyote swimming as if returning from a long evening. I see the Gateway Arch in the distant with a new bridge that was being constructed in 2012 while we circumnavigated St. Louis. Many of my childhood fishing spots are now industrial zones and private, but I still have love for this town. We clear the Port of St. Louis and head towards the Meramac River. I feel discomfort and start to stress with my childhood experiences hovering over my shoulders, when we spot a great site for lunch, which happened to be Jefferson Barracks. I'm at peace enjoying lunch with my mother and friends. I could feel a sign of relief as I'm able to smile and celebrate her life through my path. The healing continues.
  An immature bald eagle crosses the bluffs as we see the Meramac River in the distance.  A john boat approaches and I think, "I hope this goes well." A lone fishermen, curious about our journey, introduces himself and gives us a history lesson about this stretch of river.  At the end of the discussion, he offers us an already filleted catfish. I beam with hope and throw out the stereotypes of my childhood. This river continues to blow my mind. It seemed as if we where being escorted by the eagles the whole way and I feel like I'm on a vision quest for healing my soul. Our captain guided us logistically through storms sometimes stopping in the distant to watch them develop and dissipate before our eyes. It was the first time I could see water falling from the sky as  if the Creator was dumping a bucket of water.
  As the trip continued, we met generous people along the way. We met a couple of river lovers close to Cairo who offered us refreshments and showed us their favorite camp site. In Hickman, KY we met a friendly news reporter, and an entrepreneur whose business has been active in town for 90 plus years. The city of New Madrid embraced four river rats wandering around town searching for supplies.   Finally, the town of Caruthersville who let us escape a vicious storm by offering us a dry place (Mike's Pizza Place) to prepare for our journey home.
  We experienced beautiful sunrises and storms. Sunsets that lasted thirty to forty minutes. Families of eagles around every bend to the point were we stopped counting them. We heard drums from the bluffs of the Trail of Tears National Park. We mourned dead sturgeon as we camped on the gravel bar across from Lee Towhead. We enjoyed many back channels, thriving with wildlife and wood ducks. This expedition changes my feeling for the better of the complex history involving my plight and was needed in order for me to continue my stewardship to this river.  Just like the meanders of the river, life is full of change and challenges. You must embrace the challenges of the present, heal the wounds of the past, and prepare to face the future with open arms. Like the return of the eagles along the Mississippi River. I'm back.
-Guest Bohemian Mark River
Essay written for Rivergator Chronicles: St. Louis to Caruthersville by Mark River
TO JOIN THE EMAIL LIST FOR QUAPAW CANOE COMPANY/RIVERGATOR/BIGMUDDYISLAND, SEND YOUR REQUEST TO [email protected].
FOLLOW MARK RIVER BLOG AT http://bigmuddyisland.org/the-mark-river-blog/