The Delta Bohemians Present their third Home Concert Series at the Clarksdale White House
A new Home Concert is coming to the Clarksdale White House on Thursday, May 31st, featuring engaging singer-songwriter Jordi Baizan accompanied by Alice Hasen.
Certainly I was familiar with Alice, the gifted vocalist/violinist/fiddler/flautist and member of the popular Blackwater Trio, but had never heard of Jordi Baizan. The two musicians met at a folk festival a year ago and have been collaborating and performing ever since. The two are currently on their first Southeast U.S. tour.
Chilly Billy and I have hosted two Home Concerts so far at the Clarksdale White House. Jordi Baizan and Alice Hasen will be the third in our Home Concert Series.
The intimacy of a Home Concert gives the musicians a comfortable space to share. For the concert-goers, it is a mystery ride. Sometimes attendees are unfamiliar with the musicians and/or the home. The experience is unexpected. Titillating. Enchanting.
Read more about the Event and
Purchase Tickets HERE.
$15
LEARN MORE: Watch Jordi during a 2016 house concert in Libery, TN perform his song "Like The First Time."
Listen to Jordi and Alice on "Could Have Been Me." Baizan paints a vivid picture with his lyrics and captivating spirit. I can already imagine what it will feel like to be present with them as they play.
Come into our home.
Experience something unrepeatable and pleasurable.
Join us!
Thursday, May 31st
Jordi Baizan with Alice Hasen
6:00 pm Door Opens
7:15 pm Concert Begins
Limited Seating
Bring your own beverage of choice. We will provide the ice and glassware.
Our event sponsor, Abe's Bar-B-Q, is graciously providing complimentary light fare for the guests.
If you want to bring a dish to share, please do so. We welcome it!
Read more about the Event and
Purchase Tickets HERE.
$15
Thank you to our Home Concert Series Event Sponsor, Abe's Bar-B-Q, serving since 1924 in Clarksdale, Mississippi.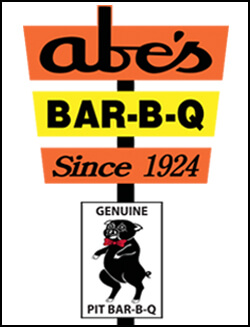 Learn more about Jordi Baizan.
Houston based Jordi Baizan was born into an international and musical family. His hauntingly beautiful and intelligent tunes along with his distinctive voice and songwriting offer him the ability to connect with the mind and the heart of the listener….perfect for a home concert setting.
Both as a solo artist and as front man and songwriter for his band, QandA, Jordi has experienced growing recognition from audiences on the radio and in some of the best listening room venues in the country. QandA released its third record on January 12, 2016. The first Jordi Baizan solo album was released in May 2017 titled "Like The First Time."
Jordi is a first generation American and native Houston, Texas songwriter. born to Spanish and Cuban parents and married to Carmen who is from Mexico. The couple have four children. Jordi's empty nest has provided him with the time to take his music on the road.
Baizan's music is a mix of folk, Americana and singer-songwriter genres. Jordi is presently on a Southeast tour with Alice and we are grateful the two are making a stop in Clarksdale. Jordi's upcoming shows are listed below leading up to his Home Concert at the Clarksdale White House with Alice Hasen on May 31st.
May 17th: House of Blues, Houston, TX
May 19th: Thoreau Woods Coffeehouse, Huntsville, TX
May 29th: Sounds Good Memphis, Memphis, TN
May 31st: Clarksdale White House Home Concert Series, Clarksdale, MS
June 1st: House Concert, Atlanta, GA
June 2nd: House Concert, Tampa, FL
June 7th: Woody's Beach Bar, Galveston, TX
Website: www.jordibaizan.com
Audio Links: www.reverbnation.com/jordibaizan/songs
Website: www.alicehasen.com
Book a room at the Clarksdale White House on the night of May 31st or for the next Home Concert with The Wineskins on June 28th and admission is complimentary.
—Magical Madge