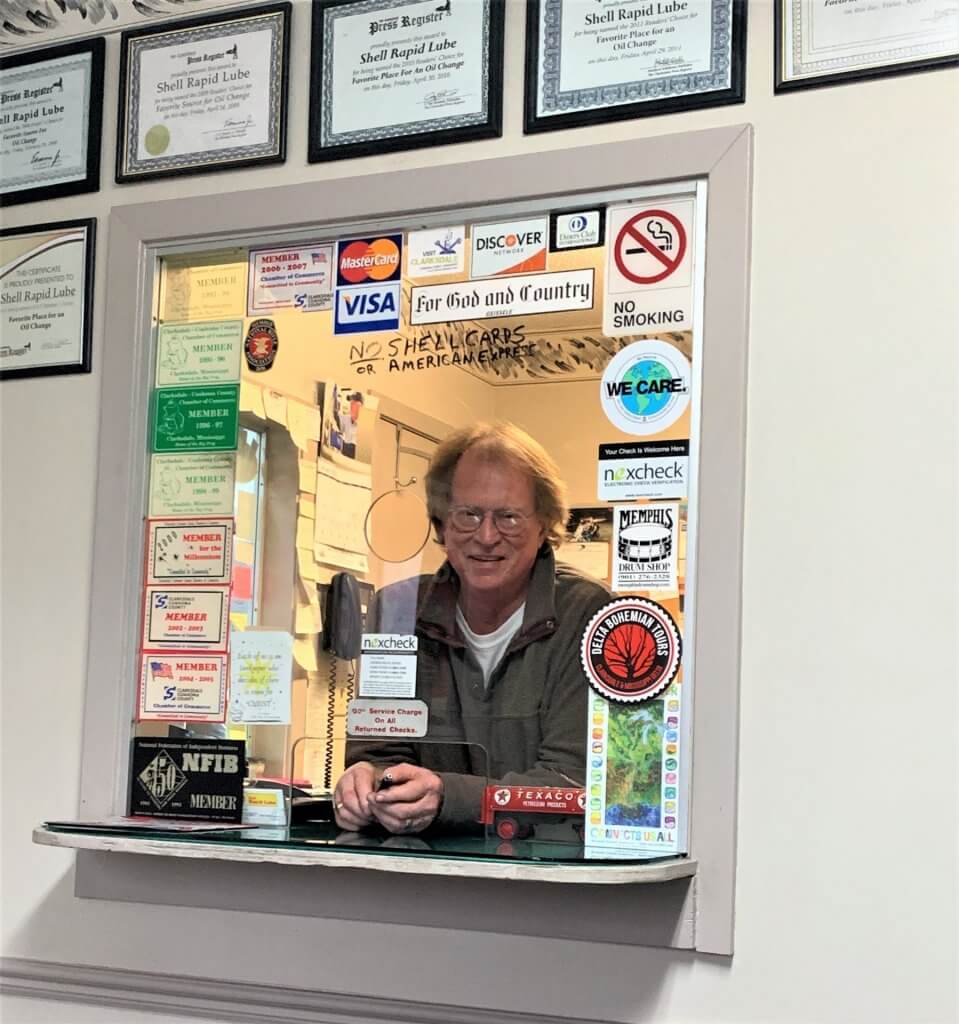 Clarksdalian Bill Harlow has always liked cars. How many of you remember when Bill's dad had the Friars Point Motor Company? Young Bill worked in the parts department back then and grew up around motor vehicles.
He especially enjoyed his days of competitive horseshoe mud racing. "I like racing cars!" he said with a devilish grin.
It was news to me that he had always been interested in automobiles and trucks. I have known Bill as a talented drummer who started tapping his sticks at the early age of 7 and has played in a variety of bands ever since including: The Gents, Backstreet 6, The Fugitives, The Leather Pages, Derby Day Band with Vince Montgomery, Mike Ellis and the Hometown Band (now known as The Mike Ellis Band) and Ronnie and The Remnants. And he is still actively playing today!
Back in the early 1990's, Bill decided to move back to the Mississippi Delta after spending a few years in New Orleans. He said he "got to missin' home. I would come back from time to time and when you hit the Delta, you know, you just get that feeling of being home again. And seeing the cotton, and smelling the cotton and stuff. I'd been out there messing around for long enough and just decided to come see what was happening here." Bill has lived in Clarksdale all his life except for those few years spent in Nola.
One fateful day, after moving back home, his bride's father, Chalmers Richardson, pitched an idea to the young couple. He asked them what could they do to start their own business? He had an ulterior motive in asking this leading question.
In fact, Chalmers had a good friend from Greenwood who had just opened an oil change place. So, he mentioned the idea to Robin and Bill. This immediately appealed to Bill! After all, remember, he loves cars!
After consulting with Mr. Richardson's friends at Sayle Oil, whose businesses were only focused on service stations at the time, the Harlow's decided to give the business model a try.
There were only 3 oil change places in North Mississippi in 1992 (Greenwood, Kosiesko and Senatorbia), so their new venture would be the 4th of its kind.
Eighteen years ago, they opened Shell Rapid Lube, a privately owned business, and the public took to their new venture right away. The Harlow's recall the cars being lined up and wrapped all around the building waiting for service.
Bill attended school in Texas to understand the guidelines for how their franchise business was to look―inside and out. Their incorporated name became 4-Corrie Inc. in honor of their then two-year-old son named Corrie. The 4 signifies Bill and Robin and her parents who gave them the idea and encouragement to begin the venture.
Personally, I was living in Atlanta, Georgia at the time and recall coming home to visit and seeing the new oil change business on Anderson Boulevard. I was impressed! These type businesses were more common in the big cities, but Clarksdale?!? When I drove in to have my car serviced and saw the tall, red-headed drummer I had known all my life at the helm, I was pleasantly surprised.
Bill and Robin are two of the nicest people you will ever meet and their staff always reflect their personal approach and commitment to service.
The devoted staff includes "Rooster" or "Blue" (aka Bill Harlow), "Rockin' Robin" (Robin Harlow), "GG" (Regina Burt, you may know her from her days at Ground Zero Blues Club or The Ranchero), and "Harley" (Harley Davidson Cole, you may know him as a security guard at Ground Zero).
Every time I pull in to this pristinely kept business, I am always greeted with smiles and a willingness to help. I couldn't recommend 4-Corrie Inc's Shell Rapid Oil more.
They provide full-service oil changes, check all fluids under the hood and the filters, check the tires, vacuum the car, clean the windshields, replace wiper blades when necessary, etc…. It's a 14-point full-service, which means, they check everything!
When Walmart came to Clarksdale, it was a nice, little town. Bill reflects that "it has changed so much. I'm still here but I don't know if I'd be here if I didn't have this business. We are thankful for all the people trying to keep it alive."
By Magical Madge
4-CORRIE INC. Shell Rapid Lube
Founded in 1992

Hours of Operation
Monday through Friday from 8-12 and 1-6
Saturday from 8-12
136 Anderson Boulevard
Clarksdale, MS 38614
662-624-4255
Bill & Robin Harlow, Owners and Founders
Find them on Google Maps