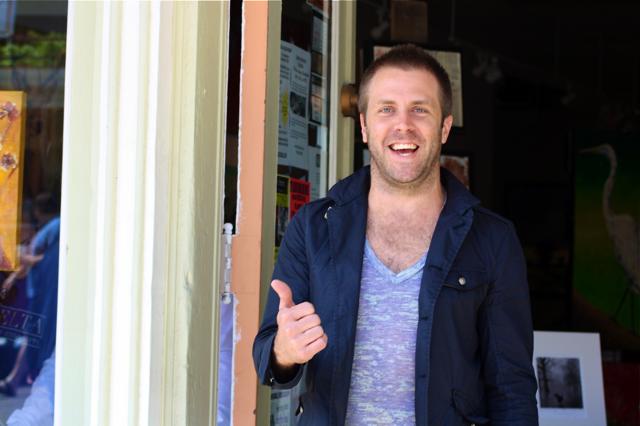 By POOR WILLIAM
CLARKSDALE, Mississippi
PHOTOS AND VIDEO INCLUDED IN POST
Clarksdale native son Bradley Gordon has returned home to our fair city to, among many things, open the Gordon Gallery. Bradley is a multi-faceted artist with gifts galore and a business mindset focused on getting things done.
Already, Bradley has held numerous art openings in his way cool Gordon Gallery on Delta Avenue. The next one is scheduled for THURSDAY, FEBRUARY 17th, from 6:00pm-9:00pm. In addition to his business art skills, Bradley has a myriad of artistic skills in many different mediums. He has an education background that has helped him already establish a steady flow of students for his art instruction.
Bradley is a musician and plays in a band. He is way cool looking and has a manner about him that is always welcoming and warm. Is there anything this Delta Bohemian can't do? Anne Marie?!! 🙂
The Delta Bohemian recently visited with Bradley in the back part of his gallery under his bunk bed and took note of some noteworthy tidbits. Have a read of some excerpts from our interview with the artist. (We had hoped to give you a recording but, alas, we fear the quality is hard on the listening ear. Sorry…. remember, we are learning as we go!)
Prior to our interview, Magical Madge and Poor William dropped by the gallery to watch Bradley in action with a student who happened to be recent newcomer to Clarksdale, the Reverend of St. George's Episcopal Church, cool man Jason Shelby. Jason is taking art classes from Bradley. Perhaps he is following in his father's footsteps, Steve Shelby; Jason's dad hammers brass into beautiful three-dimensional replicas of animals and such. His work is available for viewing and purchasing at the Gordon Gallery! Small world.
An interview at the Gordon Gallery in downtown Clarksdale with Bradley Gordon. He is categorically one of the coolest dudes we have ever met. He's got one of the finest work ethics we've ever seen for an artist and, even though he has an incredible right brain, he's got the left brain rationale and work ethic of somebody on that side of the fence. Anyway, he is a very convivial, upbeat dude, extremely talented, and is doing some neat things in downtown Clarksdale.
DB: Bradley, break your history down. You grew up here. Tell us about where you went, why you came back and let's go from there brother.
BG: First of all, thank you for the kind words. I grew up here. Grew up on a farm, from a family of farmers. Graduated from Lee Academy and then went to Delta State for a year. Transferred to Ole Miss.
DB: What were you working on degree-wise?
BG: Education. A BFA in Art Ed and after that I taught school around Oxford and Holly Springs for a few years. Next, I opened a private art school in Oxford called Studio Space. Being the not-so-bright businessman that I am, business was not so great, and that lasted for about a year. So, I closed it and took a job in Taiwan teaching. I spent a little over a year there.
DB: Teaching art, or?
BG: I went there to teach English, but by the time I left I was barely teaching any English. I ended up, I was very fortunate, being able to get into the music and art community there. I was asked to be a resident artist at this place called Skull Art Studios. There were six artists and we all had our studios and we kinda lived in them and worked, and had shows. It was great!
From there I came back home and taught school in Germantown for a couple of years in the Shelby County schools. Then, I left there and went to Japan and did the same thing. Music, Art and Teaching. I spent a year there and then came back home and here I am.
I opened the gallery up, so giving and doing the private thing, private lessons here. I've always wanted to pursue my painting on a full-time professional basis, I mean I've always done it on the side, but it's really tough being a teacher; so, now is the time and it just kinda worked out. So here I am!
DB: How would you describe yourself as an artist? What kinds of mediums do you use?
BG: I think from my teaching background I dabble in a little bit of everything. I have to teach lots of mediums. I can fake my way through teaching pretty much any medium. Ceramics, Watercolor, you name it, 3-D stuff. My work that I really put focus on is oil paintings, pretty large scale, most of them.
My subject matter has changed quite a bit. In the past I've always or my work has been loosely based on kind of cultural beliefs, whether it's religious beliefs, superstitions, and kinda interaction between people. And then when I came home, I decided to do this series of wildlife stuff just 'cause it was kinda coming home to the Delta and whatever. I did it and fell in love with it, and I'm just running with that right now. Where I'll be in a few years, who knows, but right now it's new to me, it's fresh and it's challenging. I'm getting back to life in the Delta.
…I am looking to bring about awareness of the arts in this community.
DB: Tell us a bit about the owl. You have painted an owl and we're told it represents an owl that lives in downtown Clarksdale.
BG: This is a cool, cool story. When I started this wildlife series, I went through all these animals and my girlfriend said you have to paint an owl. And I was, ok, I'll paint an owl. So, I'll get to it, I'll get to it.
Well, Randall Andrews, another local artist, was telling me one night, a story about this owl. He said he came out of his apartment on Delta about two or three in the morning and he walked out and he said right in front of him was this monstrous owl with a seven-foot wing span, who was trying to land on the power line. He said it was three in the morning and everything was quiet and he walks out with this huge owl right above his head. He said it was like a monster or something.
So he catches the owl's eyes and then the owl flies off. Randall comes to me immediately and, anyone who knows Randall knows he's full of energy, and he says you've got to paint this owl! And I said it's funny you said that, because my girlfriend said the same thing. And again I said, I'm gonna get to it, I'm gonna get to it….
Then when we had that first big snow, Randall and I were standing out back and I guess because of the snow… I guess I should preface and tell the story about my landlord.
We were standing out back on a pretty day under this magnolia tree, and we were having a conversation about whatever and a pigeon carcass falls out of the tree and almost lands on me, in the middle of the day…and there was nothing left but like two wings– blood and feathers. And I'm like, what the hell happened? Then these pigeon carcasses start showing up back there. What is going on?
Well, when it snowed the first time, we were standing outside around midnight having a beer and I guess because the snow on the ground had all the light reflecting up and we look up and the owl flies over. And you can see his wings. It was something like Jurassic Park. It was enormous. And you could see…it was like slow motion. It flew right over our heads. And I'm like, I've got to paint the owl. So, that inspired the owl painting! So it's a night scene with a moon; he's monstrous and flying overhead! And, yes, Clarksdale has a town owl Who-Who helps us with our pigeon population!
WE HIGHLY ENCOURAGE COMMENTS!!