A Bohemian Night in Oxford
Oxford, Mississippi entertained the Delta Bohemians this past week for a one-night soiree celebrating Magical Madge's birthday. Dinner at Lenora's restaurant with Delta Bohemian writer and first-year Ole Miss student Corinne Vance and "friend" started the evening off with a bang. The adults enjoyed 12-year-old scotch and a meal that wasn't all bad.
Poor William's first college girlfriend, Lisa Friedrich Grayson, and her husband, Chip and three children–Shelley, John and Virginia–were at Lenora's celebrating Virginia Grayson's 21st birthday. The Graysons played host to a bevy of Ole Miss co-eds.
Also seen at Lenora's was the famous photographer and Oxford resident Dick Waterman and his lovely wife Cinda. Dick and Cinda graced the Clark House for several days recently during the 1st Annual Clarksdale Film Festival.
A splendid evening was capped off at Rooster's Blues House where Poor William and Magical danced to Uncle Lucius, a sho-nuff funky band out of Austin, Texas, who has been known to tour with Leon Russell. Your can hear the blues, country, Americana, R&B, and some wicked hints of funk all up in their tunes and performance. A good time was had by all! Have a look at some photos from the night and ENJOY the video!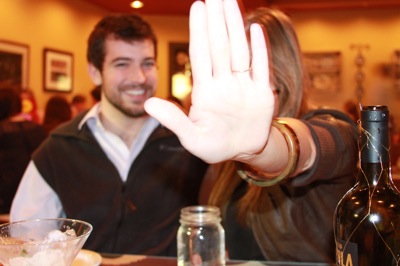 STOP! Photo by The Delta Bohemian