Package Deal: 100 Year Old Clarksdale White House comes with the Delta Bohemian Guest House
Clarksdale White House For Sale – but not your average Clarksdale white house. This Clarksdale White House For Sale comes with a guest house and a whole lot of history.
This is your opportunity to own an iconic 100-year-old renovated Clarksdale White House for Sale in the heart of the Mississippi Delta, the most Southern Place on Earth, Clarksdale, Mississippi.
The recently upgraded, newly roofed and painted Clarksdale White House is located on one of the oldest and most historic streets in Clarksdale (West 2nd Street) just three blocks from downtown Clarksdale, home to the world renowned and recently recognized—two coolest juke joints in America—Ground Zero Blues Club and Red's Lounge. The Clarksdale White House is replete with hardwood floors, over 4,600 sq. ft., four bedrooms and three baths upstairs and a master suite/or den with full bath and fireplace downstairs.
Two sun porches are attached along with two living room/dining room areas, a breakfast room/bar, and a kitchen with six-burner gas stove. The laundry room segues the kitchen to the enormous brick fenced-in backyard with patio, large back shed opening up onto a side street and to the back guest house. The yard has a cool Bohemian Garden with a goldfish pond (goldfish included), Chinese lantern trees reminiscent of Southeast Asia, landscaping and multiple sitting areas. A multitude of squirrels and birds call this place Heaven!
A purchase of the Clarksdale White House includes a bonus; the new owner gets the Delta Bohemian Guest House (DBGH) too. The DBGH is a 1,000 sq. ft. two-story, renovated, well appointed, former cook's house located in the backyard of the Clarksdale White House. It has a front entrance on a side street and alley access through the backyard. The two upstairs bedrooms are connected by a refurbished bath with a large tiled shower.
The Clarksdale White House and Delta Bohemian Guest House can be used as private residences or as vacation rental properties or both! The two homes already are multi-use and have their own websites: http://www.clarksdalewhitehouse.com and http://www.deltabohemianguesthouse.com/
In addition, the properties are listed on Airbnb, Tripadvisor, Flipkey, VRBO and Home Away.
Both homes can be sold partially furnished if interested.
Serious buyers please contact owner Billy Howell at 662-645-9197 or [email protected]
CLARKSDALE HOME FOR SALE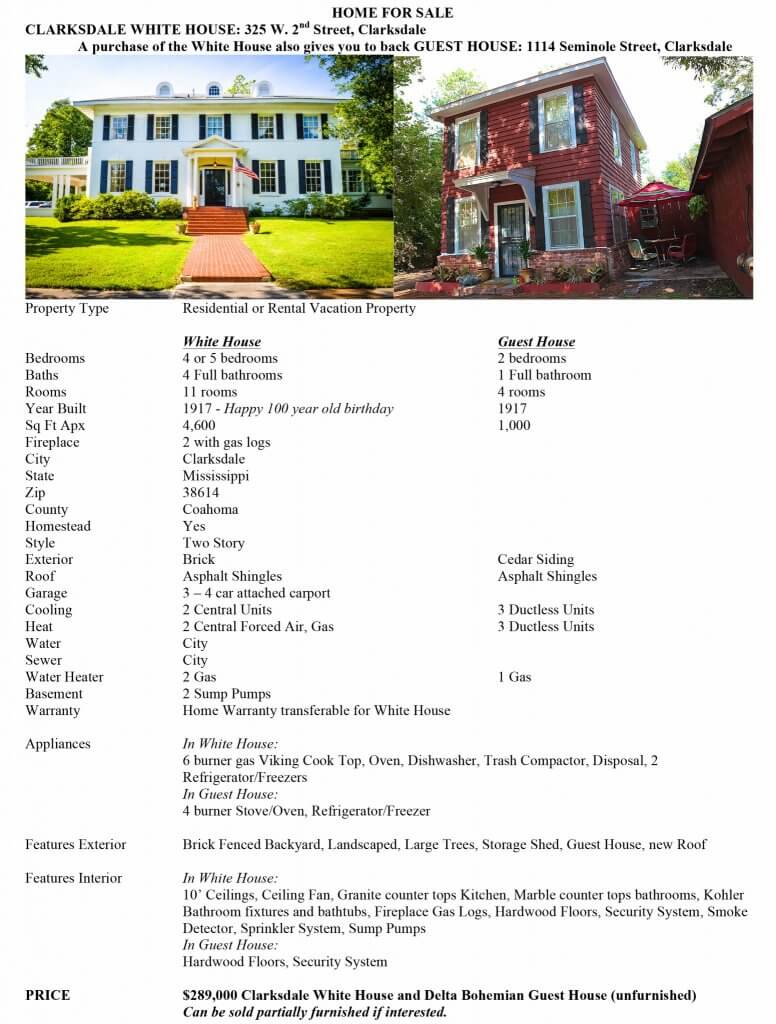 MORE PHOTOGRAPHS ONLINE
http://www.clarksdalewhitehouse.com and http://www.deltabohemianguesthouse.com/
Share and Enjoy